In development

1) Found Text (in development with Stanford Institute for Diversity in the Arts)
Synopsis:
Inspired by the practice of found text poetry and based on the research of collaborator and astrophysicist Afra Ashraf,
Found Text
invites us to discover new ways of seeing what we already have. Participants work together on a massive canvas to redact whatever words they choose and to add their own flair, turning impenetrable scholarship into poetry filled with emergent and individuated meaning.
Each
Found Text
experience is 60 minutes and will take place across two rooms in a large venue, such as the Cantor Art Museum at Stanford. Participants are initially seated at one of several stations (each equipped with an iPad and apple pencil) in the larger of the two rooms. Each installation features a particular scholar or scholar team and one of their recent research papers. In the first installation, we will feature Afra Ashraf's astrophysics research; for subsequent installations we will feature scholarship from science, arts, and humanities disciplines from Stanford and beyond. The author(s) of a particular work of scholarship will deliver a brief, general audience talk about their research. The featured scholar also invites participants into the central ethics of
Found Text
—curiosity, joy, leaning into the unknown, taking a fresh look at what you already have.
Then, the scholar takes a back seat, and the audience engages with the scholar's research directly. A lush, original sound score plays via a binaural audio system. From their individual iPad stations, participants use a custom-built app that allows them to annotate, draw, and play with two pages selected by the scholar from their original research paper. Participants are offered a few instructions throughout the experience—at times, instructions that whimsically converge and diverge from one another's. Their annotations appear simultaneously on an enormous central projection surface, with lighting designed to look like a painting being created collectively in real time (rather than like digital light).
After creating their own annotations, participants are invited to enter the second adjoining gallery, where several found text artworks are mounted, from all previous installations of the experience. Their own collective work is printed in real-time and mounted in the gallery as they roam. Participants are given the option to take home an art print featuring the work they made together and/or a carbon-neutral NFT of the same. All the generated artworks will also be shared in an online gallery, alongside videos of the featured scholars.
Concept illustrations for the installation are included below:
Type:
physical installation, software, immersive experience
Funders:
Seed support for the development of
Found Text
has been provided by Stanford Institute for Diversity in the Arts and the Stanford Ethics, Society, and Technology Hub.
Dates:
The work is expected to debut in early 2024.
---
2) Rogue Objects
Synopsis:
Made in collaboration with the brown dwarf astrophysics group at the American Museum of Natural History,
Rogue Objects
is an operatic film for planetaria that explores the emerging science of brown dwarfs: a newer class of in-between celestial bodies, neither planets nor stars. Brown dwarfs are primarily bright in the infrared -- a segment of the electromagnetic spectrum just outside the wavelengths of human sight -- and to observe them we, humanity, had to make the creative leap that darkness was worth looking at. Through animation, renderings from the new JWST and Gaia space telescopes, and an operatic score built from sonified light curves of nearby brown dwarfs,
Rogue Objects
invites audiences into the wonderful life of these objects that abound and sing in the dark.

Type:
opera, planetarium show, film
Funders:
Seed support for
Rogue Objects
has been provided by the Camargo Foundation, Sundance Institute, and the MacArthur Foundation.
---
Completed Works

1) The Gift
Synopsis:
The Gift
is an immersive installation that animates contemporary astrophysics research to open up metaphorical space for grief, care, and renewal.
In this timed-entry experience, participants gather in a music-filled reading room, where they encounter an all-ages illustrated book that invites responses both tactile and emotional. This book tells the story of two stars that are so close to one another yet so far from us that they appear as a single point of light in the sky. Their fates are intertwined; one star, at the end of its life, transfers its material to the companion, allowing the companion to burn brighter and to appear—for a moment—younger, brighter, bluer. This tender story and playful experience heeds the call of anthropologist Emily Martin, to "wake the sleeping metaphors of science."
Visit
thegift.space
to learn more and watch a trailer.
Type:
physical installation
Hardware:
Two-channel audio playback (powered speakers or individual headphones, depending on location), tables and chairs
Software:
Qlab for audio loop playback (free license)
How can it be exhibited:
The Gift
can be exhibited in a private (with speakers) or semi-private (with headphones) space, and can scale to suit the room—from 6 concurrent participants (200 sq ft room) up to 60 (2000 sq ft room). It is an interactive installation that takes approximately 10 minutes; whenever a seat becomes free, a new participant can join (each seat can accommodate approximately 6 people per hour, so the per-hour room capacity can range from 36 to 360. The audio is a looped, original orchestral score which plays on our computer with Qlab on either a two-channel speaker array flanking a set of 6' wooden tables (2-20, depending on room size) with three chairs at each. In front of each chair is a 12"x12" cloth covered book—goldenrod for English, blue for Spanish, and other colors as needed for additional languages relevant to a particular audience. Descriptive audio is available for blind and visually impaired readers. The book and musical score were designed together so that any reader, at any moment, will experience moments of serendipitous beauty and meaning as the music, book, and actions of their fellow readers converge.
Funders:
Created with the generous support of Lincoln Center for the Performing Arts, The Public Theater, New York Community Trust, the Sundance Institute, the Guild of Future Architects, MAP Fund, Stanford University, Brooklyn College, Creativity & Innovation at Colorado College, The University of Colorado, and The Tow Foundation
Past Show dates:
New York Public Library Main Branch (Dec 2022)
Lincoln Center for the Performing Arts (Dec 2021)
---
2) Tracing Lace Story Tour
Synopsis:
Tracing Lace
is a series of imaginative short stories with original music hidden throughout the Threads of Power exhibition at Bard Graduate Center Gallery, written and performed by James Harrison Monaco and Janani Balasubramanian. Each story animates and expands the lace histories in the exhibition with additional historical, cultural, and scientific perspectives.
Type:
embedded audio works in a gallery exhibition
Hardware:
NFC chips
Software:
tap-to-play
How it is exhibited:
Tracing Lace
uses NFC tap-to-play technology. Participants hold their smartphones near a golden token and are directed to an audio file they can listen to through a pair of headphones.
Show dates:
Bard Graduate Center Gallery (Sep 16, 2022 - Jan 1, 2023)
---
2) How to Get to the River
Synopsis:
How to Get to the River
is a research-based art adventure that invites participants to develop an embodied, creative, and loving understanding of and attunement to the Schuylkill River watershed. The work is made by artist Janani Balasubramanian in collaboration with Whit MacLaughlin and Pete Angevine of Philadelphia theater company New Paradise Laboratories.
It is an investigative walk that unveils the watershed's bustling dynamism in a neighborhood immediately adjacent to the Academy of Natural Sciences, taking you down Cherry Street to the Schuylkill River and back. Follow visual cues, trail blazes, embedded sound experiences and other surprising moments that treat this urban watershed as a work of art. Become attuned to the evidence of water flow as it is imprinted on our urban landscape, noticing how it is channeled to the ground, courses across sloped roofs, gushes through rain gutters and splashes into underground storm drains. A serpentine clarinet fugue performed by British composer Shabaka Hutchings accompanies the journey.
The walk culminates at the Schuylkill with the sound installation
Inside the Watershed
, a live composition created by environmental sound artist and composer Annea Lockwood and interactive sound artist Liz Phillips.
Example of press coverage
here
.
Type:
outdoor public art installation (including sidewalk art, kinetic music, street signage, plant-based 2D art, sculpture, maps, lenticular drawings, and a set of hand-held cards that unlock interactive and sound experiences)
Funders:
Major Support for
How To Get To The River
has been provided by the Pew Center for Arts & Heritage, with additional funding provided by The Wyncote Foundation, and The Philadelphia Cultural Fund.
Show dates:
Academy of Natural Sciences (August 3-October 31st, 2022)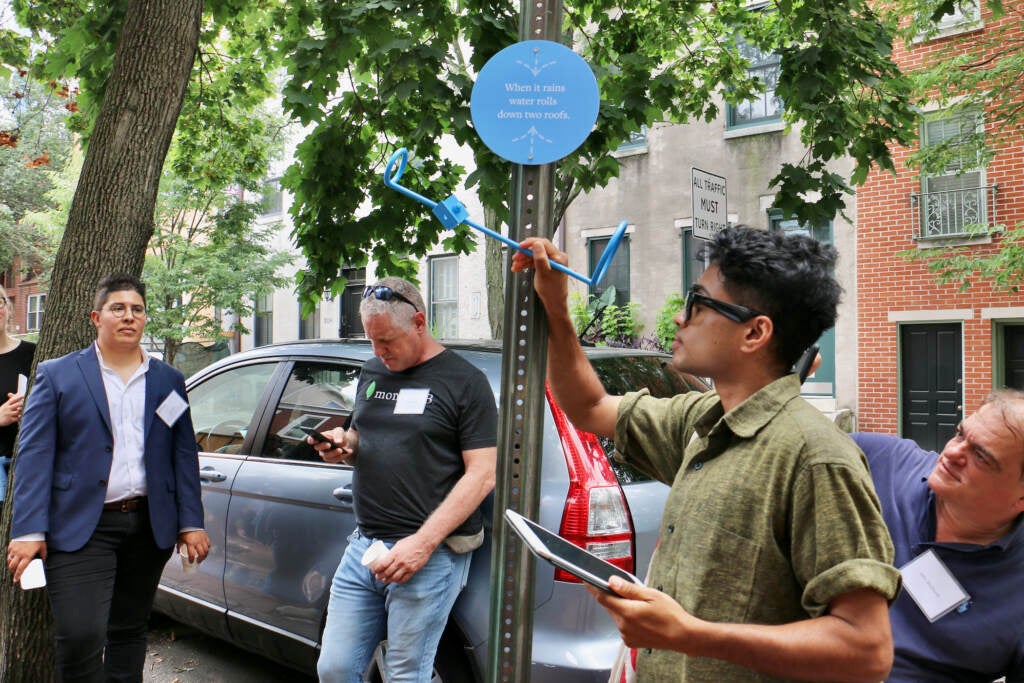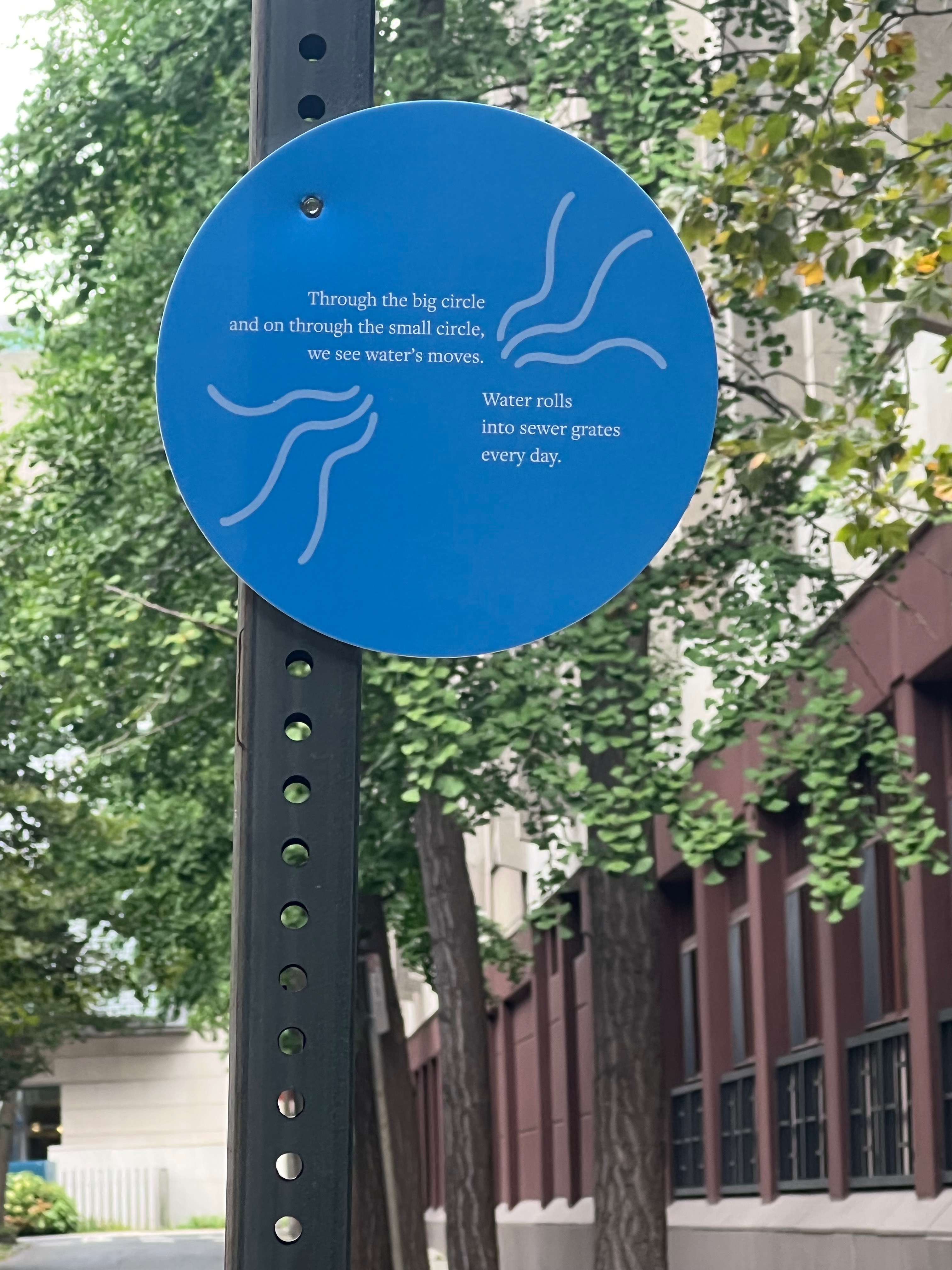 ---
3) She is Called: Dear Stranger
Synopsis:
She Is Called
is an original choral/theater production being developed for the stage by Brooklyn Youth Chorus. Over a multi-year artistic development process, the young artists of the Chorus are collaborating with established theater artists to present commissions by contemporary composers that address themes of gender and identity.
Amid the COVID-19 pandemic, the Chorus presented first phase of the project,
She Is Called: Dear Stranger
, via a media-rich website experience. The website features newly commissioned choral works, as well as photos, recorded letters, and poetry from the singers, inspired by the songs' themes and the singers' perspectives/experiences.
The production features new compositions from four celebrated composers - Nathalie Joachim, David Lang, Alev Lenz, and Shara Nova - and features significant artistic contributions from the students themselves. In collaboration with the students are four theater artists - Janani Balasubramanian, Charlotte Brathwaite, Sunder Ganglani, and Tareke Ortiz - who, through ongoing workshops, collaborated with the Chorus to bring this ambitious project to life.
Type:
online work (found poetry, spoken audio recordings, music)
Funders:
The Aaron Copland Fund for New Music, The Amphion Foundation, The Howard Gilman Foundation, The MAP Fund (supported by the Doris Duke Charitable Foundation and the Andrew W. Mellon Foundation), New Music USA
Show dates:
Presented
online
by the UCLA Center for the Art of Performance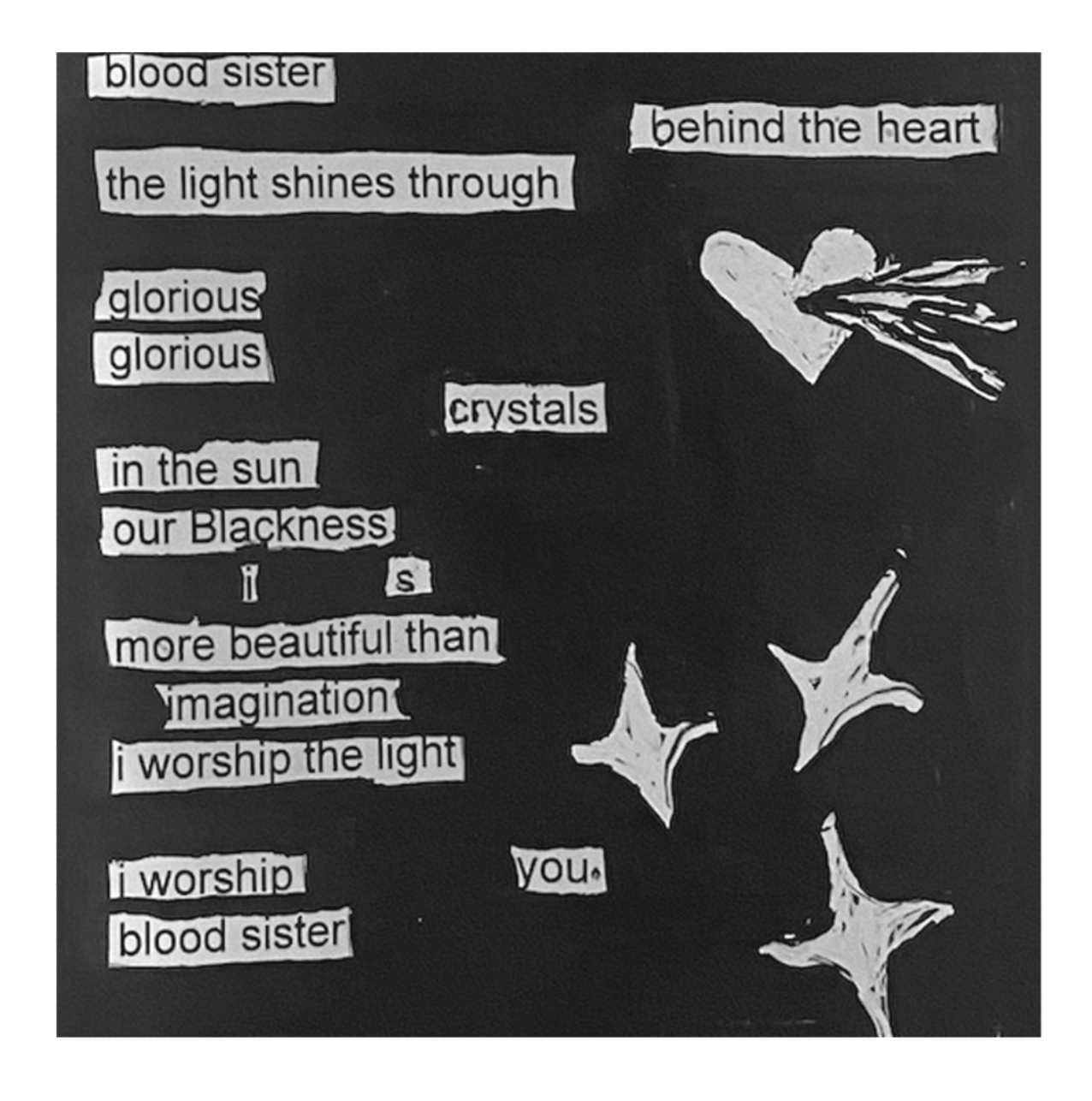 ---
4) The Future is Present
Synopsis:
The Future Is Present
is a process and a practice, it's a model for building community in a very small and incredibly powerful way. Led by artists Charlotte Brathwaite, Justin Hicks, Janani Balasubramanian, Sunder Ganglani, June Cross, and Alyssa Simmons, the project built a small virtual community of Black and Indigenous young people and a small community of young artists from Bard College to spend seven weeks cultivating intimacy and discourse.
The youth cohort created demands on our collective future. The Bard community members listened, deeply.
The artists at Bard made a series of short films for the youth cohort, available to view
here
.
Pull quote:
"We projected ourselves into a future in which we are loved absolutely and we rehearsed our lives there."
Type:
social practice, text, visuals
Funders:
Bard Fischer Center
Dates:
January 21 – May 16, 2021
---
5) Casting the Vote: An American Dinner Party & Casting the Vote: A Call to A Count
Synopsis:
The dinner table is where everything happens: friends meet families, communities see themselves for the first time, relationships take shape, solidarity is discovered and affirmed, and of course, hunger is satisfied. Passing the salt, refilling the water glass, and offering a second helping - there, laid bare, is the subtle integrity of human beings being together. Our American stories, our mythologies, and our activism are written at the table between courses - but lately, we seem to be eating alone.
You're invited to a very special dinner party - back to the table, the drawing board, and the stage, back to eye contact. We have something to talk about, something as American as family dinner: the right to vote.
Created by director Charlotte Brathwaite in collaboration with journalist and filmmaker June Cross, dramaturg Sunder Ganglani, and writer Janani Balasubramanian - CASTING THE VOTE is a participatory, community dinner based on recent scholarship and activism around voter suppression in The United States. It's a performance, a family style meal, and an attempt to ask and answer the most difficult questions of our time -
together
. Come with open hearts, empty stomachs, and as much good faith as you can offer. Suppress neither your appetite nor voice.
Trailer
here
.
Pull quote:
"Democracy is created person to person, moment to moment."
Type:
social practice, immersive theater
Funders:
Brown Institute for Media Innovation, MIT Theater and Performing Arts
Dates:
St. Nicholas Park, in collaboration with Harlem Impact Rep (Summer 2020)
La Mama Repertory Theater (Fall 2019)
MIT Theater and Performing Arts(Spring 2019)
---
6)
Dial a Poem 2.0.2.0
Synopsis:
Dial-a-Poem 2.0 2.0
is an homage to and adaptation of poet
John Giorno
's 1960s/70s work
Dial-a-Poem
,
in which you could call a phone line and any one of a selection of recorded poems and music would be played for you, from the likes of Allen Giinsburg, Patti Smith, Joe Brainard, Frank O'Hara, John Cage, Amira Biraka, and many others. The late '60s were their own historic era of social upheaval and transformation; now, we are in the midst of another upheaval,
and
the Anonymous Aardvark Collective
is launching a new iteration for a new time. The Anonymous Aardvark Collective is comprised of upcoming Pioneer Works resident
Janani Balasubramanian
, along with artists
Maia Chao
,
Tina Hanaé
, and
Maryam Gunja
, as well as creative technologist Aditya Balasubramanian.
With
Dial-a-Poem 2.0 2.0,
they have developed their own phone service—this time for "societies grieving the pain of isolation, separation, and distance." The idea behind
Dial-a-Poem 2.0 2.0
is pretty simple: you dial a number, and a recorded voice shares a moment of art with you. In a twist on Giorno's model, the
Dial-a-Poem 2.0 2.0
readers have selected pieces they didn't author, but are dear to them in other ways.
Dial 818-532-5242. Readers are standing by.
Type:
phone-based artwork
Software:
Twilio, custom code
Funders:
Pioneer Works Broadcast (supported by Simons Sandbox)
---
7) Heisenberg
Synopsis:
Heisenberg
is an immersive, audio augmented reality game intended for groups of 30-800+ in open public spaces. Participants start at the beginning of the universe as fundamental particles and then play as a variety of human and nonhuman characters across spacetime.
Heisenberg
emphasizes limits on personal understanding—a cue from particle physics and the game's namesake, the Heisenberg uncertainty principle. The work also references the narrative and dramaturgical structure of Italo Calvino's science fiction fable collection
Cosmicomics
. In
Heisenberg
, there are five divergent tracks an audience member might hear. Toward the beginning of the game, all participants hear the same audio, to ease them in, before the playful chaos that follows.
Heisenberg
includes text-based, spoken, and kinetic game play.
The piece bridges contemporary particle physics with sociopolitical implications of uncertainty. Developed following the 2016 presidential election,
Heisenberg
investigates what happens when we assume others occupy the same realities and motivations that we do. The game asks: if we don't know what's coming, how do we live? And: if we don't know each other, how do we live together?
Trailer
here
.
Footage from the premiere
(with audio as an audience member might hear) of a beginning scene.
Funders:
Heisenberg
was comissioned by Friends of the High Line, with additional support from Red Bull Arts.
Type:
audio augmented reality, game, immersive experience
Hardware:
multi-channel RF headphones and audio system; paper and markers
Shows:
Between 2017-2019, Heisenberg toured widely, with presentations including the High Line (premiere venue), University of Colorado, San Francisco Exploratorium, University of Washington Meany Center for the Performing Arts, Stanford's Cantor Arts Center, CUNY Graduate Center, Princeton University, and Brooklyn College. The tour was cut short by the pandemic, but I am actively seeking new touring opportunities for the work.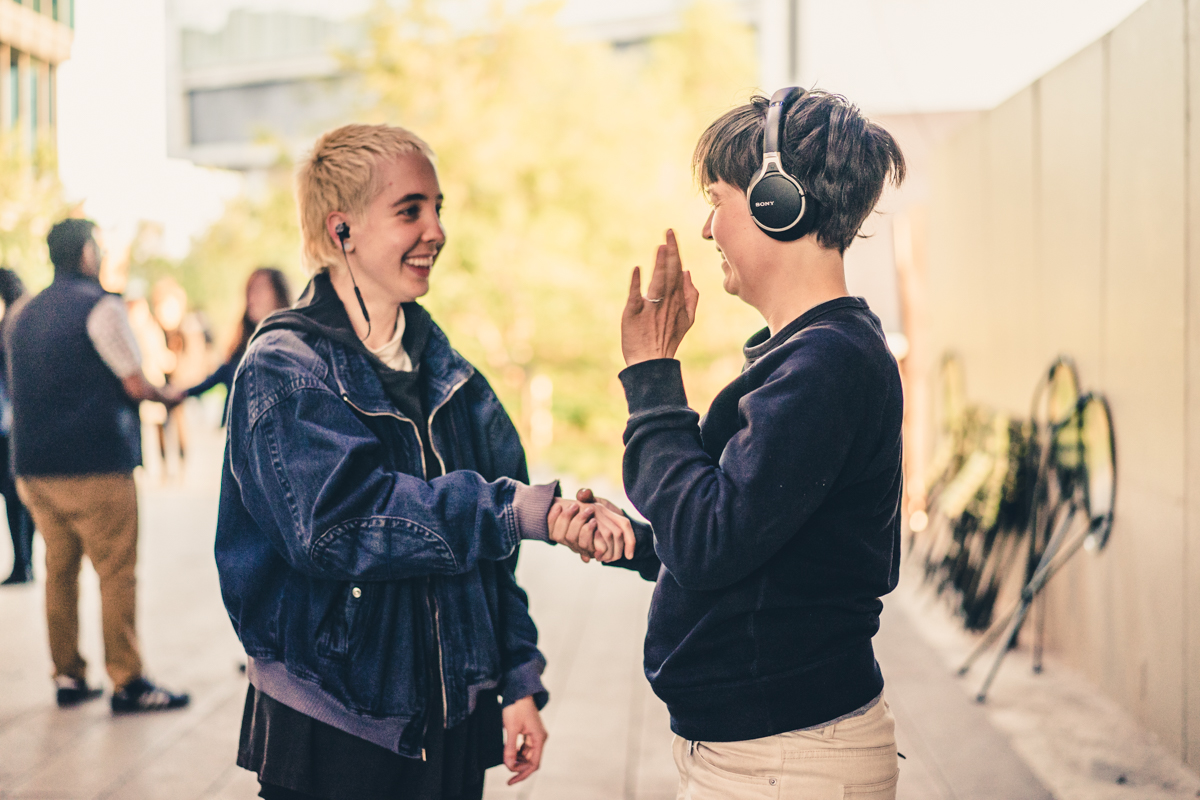 ---
8)
iOS-a-Poem
Synopsis
: iOS-a-Poem
is a contemporary response to John Giorno's iconic 1968 work
Dial
–a-Poem.
The work focuses on how communication and technologies have transformed between then and now, and how our relationships to one another have altered as a result. In the piece, participants receive a mix of audio that includes original audio from
Dial-a-Poem
, readings of the works in
Dial-a-Poem
by new human and AI voices, machine noises, and instructions to perform certain tasks. At the outset, participants are told they all have the same instructions, though it quickly becomes clear that this is not the case.
A short film documenting the work is below.
Funder:
Red Bull Arts
Type:
audio augmented reality, immersive experience